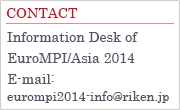 Venue
Kyoto is one of the most famous cities in Japan. Not only foreigners, but also many Japanese are attracted by the city. Once, Kyoto was ruled by nobility hundreds years ago. Thus, many big temples and gorgeous shrines were built, and Kyoto cuisine was invented. Many old shops you can find today played the part in the eco-system developed at that time.
The famous temples and shrines are very busy and crowded sometimes. Do not worry. There are lots of temples and shrines, not so much famous and big, but associated with beautiful gardens. You may enjoy the garden while you are drinking green tea they serve.
The conference will be held at Kyoto International Community House located at the east-end of the city where you can visit many temples and shrines within easy walking distance.
( Tourist Attractions Map around Kyoto International Community House )
There will be a shuttle bus service from the Kyoto railway station to the official hotel, Westin Miyako Kyoto Hotel.
Please consult the "Directions" page to get Kyoto from overseas.
A welcome reception is scheduled on 9th of September and a banquet dinner is scheduled on Thursday (11th) night. Guided tour may take place if conditions are met.
Venue - Kyoto International Community House -
Nanzen-ji
Heian Shrine