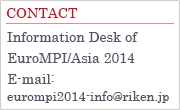 Fees and Registration
Deadline for Pre-Registration: August 25, 2014
All Deadlines are at 11:59pm UTC-12:00 of the days (AoE).
Registration requires both the completion of online registration and the confirmation of payment of the registration fee by the Registration Office.
If your visit to Japan is required to have a VISA, send an e-mail to eurompi2014-reg@ics-inc.co.jp by August 8, 2014 after completing the registration.
Registration fees
- All payments must be made in Japanese Yen.
Early
(Until July

31

, 2014)
Late & On-site
(From August 1, 2014)
SIGHPC Member
Student
JPY 30,000
JPY 35,000
Non Student
JPY 50,000
JPY 65,000
Non SIGHPC Member
Student
JPY 35,000
JPY 40,000
Non Student
JPY 60,000
JPY 75,000
Registration includes attendance to the Session(s), Tutorial(s), Workshop(s), Reception, Banquet, Lunches(September 10-12) and Coffee breaks.
If you are a student, you will be asked to present proof of your student status (with clearly displayed valid period) at the registration desk.
If you are a SIGHPC member, you are asked to fill your SIGPHC membership number on your registration form and to present proof of your SIGPHC membership at the registration desk.
At least one of the authors of accepted paper is required to register.
Additional fee
| | Fee |
| --- | --- |
| Additional page | JPY 10,000 / Page, Up to 2 pages extra |
If your paper exceeds 6 pages, send an e-mail to eurompi2014-reg@ics-inc.co.jp after completing the registration. We will send credit card form to charge the fee.
Payment
Payment must be made in
Japanese yen
and can be made by one of the following methods:
- Credit Card (VISA, MasterCard, Diners Club, AMEX or JCB)
- Bank transfer:
The Bank of Tokyo-Mitsubishi UFJ, Ltd.
Shin-Marunouchi Branch
1-4-1 Marunouchi, Chiyoda-ku, Tokyo, 100-0005 Japan
Tel: +81-3-3211-2473
Account Name: EuroMPI/Asia 2014
Account No.: (Ordinary Account): 3202948
SWIFT Code: BOTKJPJT
The bank transfer fee should be borne by the applicant.
If the remittance covers more than one person, please inform us of the name of each participant.
If you require an invoice for the payment, please contact the Registration Office.
Receipt will be provided at the conference site.
Reply E-mail
After you complete on-line registration, a reply e-mail will be sent to your registered e-mail address automatically. If you do not receive it within 24 hours, please contact the Registration Office.
Confirmation
Upon confirming both the registration and payment, the Registration Office will send you a confirmation e-mail. This confirmation must be retained and present at the registration desk to receive the Conference materials.
Cancellation
No refund will be made for cancellation.

The online registration has been closed.
On-site registration will be available during the Conference.
The Registration Desk will be located in the Event Hall Foyer.
| Tuesday, 9 Sep | Wednesday, 10 Sep | Thursday, 11 Sep | Friday, 12 Sep |
| --- | --- | --- | --- |
| 12:00 - 17:00 | 9:00 - 16:00 | 9:00 - 16:00 | 9:00 - 12:00 |
For any inquiries about registration, please contact:
Registration Office of EuroMPI/Asia 2014
c/o ICS Convention Design, Inc.
Chiyoda Bldg., 1-5-18, Sarugakucho,
Chiyoda-ku, Tokyo 101-8449, Japan
TEL: +81-3-3219-3600
FAX: +81-3-5283-7256
E-mail: eurompi2014-reg@ics-inc.co.jp