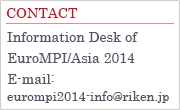 Submission
SUBMISSION INSTRUCTIONS
Contributors are invited to submit a full paper as a PDF document not exceeding 6 pages in English. The title page should contain an abstract of at most 100 words and five specific, topical keywords. The paper must be formatted according to double-column ACM ICPS proceedings style. The usage of LaTeX for preparation of the contribution as well as the submission in camera ready format is strongly recommended. Style files can be found at http://www.acm.org/publications/icps-instructions/.

New work that is not yet mature for a full paper is invited for the poster session. Contributions to the poster session should be submitted in the form of a two page abstract.

All contributions will be fully peer reviewed by the program committee. For submission, see
https://www.easychair.org/conferences/?conf=eurompiasia2014.
Publication
Accepted conference papers, posters, workshop papers will be published in the ACM Digital Library within its International Conference Proceedings Series (ISBN No. 978-1-4503-2875-3).