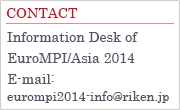 Invited Talks
---
Katie Antypas

National Energy Research Scientific Computing Center (NERSC)
Title:
Enabling Scientific Discovery Through High Performance Computing and Extreme Data Science with the Cori System
Abstract:
NERSC's mission is to enable scientific discovery to the broad US Department of Energy's open science community. This presentation will introduce NERSC's next supercomputer, Cori, a Cray XC system featuring the Intel Knights Landing Architecture and describe our plans for preparing the science community for advanced manycore architectures.
Biography:
Katie is the NERSC Services Department Head, with oversight of 3 groups, Advanced Technologies, Data and Analytics Services, and User Services. The Services Department works to increase the impact of science research conducted by NERSC users by providing exceptional services and user support, preparing users for the coming advanced manycore HPC architectures, and providing comprehensive services to store, analyze, manage and share data. Katie is also the Project Manager for the NERSC-8 system procurement, a project to deploy NERSC's next generation HPC supercomputer, named Cori, in 2016. The Cori system architecture will be comprised of the Cray interconnect and Intel Knights Landing manycore processor. Before coming to NERSC, Katie worked at the ASC Flash Center at the University of Chicago supporting the FLASH code, a parallel, adaptive mesh refinement astrophysics application. She as an M.S. in Computer Science from the University of Chicago and a B.A in Physics from Wellesley College.
---
Yutong Lu

School of computer science National University of Defense Technology
Title:
Large Scale System Design and Application for Tianhe-2
Abstract:
In the post-petascale and exascale era, the innovative integrated technologies are needed from new architecture to associated software stacks. We must deal with the performance, scalability, power consumption and reliability issues. The system software stack design needs to explore the capability of cpu, accelerator, interconnection, I/O storage system, and till whole system. This talk will also cover the efforts and experiences from NUDT to design and implement the Tianhe serial systems and applications. The co-design approach has been followed throughout our research and development activities to be capable of supporting the domain applications in moving forward efficiently to increasingly large-scale computing. Furthermore, some investigations on architecture and software design for the next generation HPC system will be presented.
Biography:
Professor Yutong Lu is the Director of the System Software Laboratory, School of Computer Science, National University of Defense Technology (NUDT), Changsha, China. She is also a professor in the State Key Laboratory of High Performance Computing, China. She got her B.S, M.S, and PhD degrees from the NUDT. Her extensive research and development experience has spanned several generations of domestic supercomputers in China. During this period, Prof. Lu was the Director Designer for the Tianhe-1A and Tianhe-2 systems - both of which have been internationally recognized as the top-ranked supercomputing system worldwide in respectively November of 2010 and June of 2013. Her continuing research interests include parallel operating systems (OS), high speed communications, global file systems, and advanced programming environments with MPI.
---
Jesus Carretero

Universidad Carlos III de Madrid
Title:
NESUS: Looking for sustainability in ultrascale computing systems
Abstract:
The NESUS COST Action has been created to establish an open research network targeting sustainable solutions for ultrascale computing systems. Ultrascale systems are envisioned as large-scale complex systems joining parallel and distributed computing systems that will be two to three orders of magnitude larger that today´s systems.
In an effort to cope with this systems, the NESUS Action aims at collaboratively rethinking the current basis of development of system software for scalable computing systems in order to pave the way towards a sustainable future scale growth by improving the coordination of efforts between complementary communities.
Cross fertilization among High Performance Computing (HPC), large scale distributed systems, and big data management is pursued to provide common activities in research topics such as sustainable software solutions (applications and system software stack), data management, energy efficiency, and resilience. These effort will be translated to applications amenable to ultra scale provided by institutions (academy and industry) members of the network. In this speech, NESUS COST action will be presented, together with some examples of the effort being made in the MPI area to enhance sustainability of ultrascale applications.
Biography:
Jesus Carretero is a Full Professor of Computer Architecture and Technology at Universidad Carlos III de Madrid (Spain), where he is responsible for that knowledge area since 2000. He is also Director of the Master in Administration and Management of Computer Systems, which he founded in 2004.
His research activity is centered on high-performance computing systems, large-scale distributed systems and real-time systems. He is Action Chair of the IC1305 COST Action "Network for Sustainable Ultrascale Computing Systems (NESUS)", and he is also currently involved in the FP7 program REPARA "Reengineering and Enabling Performance And poweR of Applications". He has participated and leaded several national and international research projects in these areas, founded by Madrid Regional Government, Spanish Education Ministry and the European union.
Prof. Carretero is Associated Editor of the journal Computer and Electrical Engeneering and International Journal of Distributed Sensor Networks. He has published more than 180 papers in journals and international conferences, editor of several books of proceedings, and guest editor for special issues of journals as Intenational Journal of Parallel Processing, Cluster Computing, Computers and Electrical Engineering, and New Generation Computing, and he is coauthor of several text books related to Operationg Systems and Computer Architecture. He has participated in many conference organization committees, and he has been General chair of HPCC 2011 and MUE 2012, and Program Chair of ISPA 2012, EuroMPI 2013, C4Bio 2014, and ESAA 2014.
Prof. Carretero is a senior member of the IEEE Computer Society and member of the ACM. He also serves and has served as a Technology Advisor and in applied projects with several companies such as RENFE, EADS, INDRA, SIEMENS or ISOLUX, developing research and innovation projects. He is a project reviewer for Spanish research ministry and also European Union.
He was teaching in Facultad de Informatica of the Universidad Politecnica de Madrid (Spain) since 1989 until 1997. In 1997 and 1998 he was a visiting scholar at the NorthWestern University of Chicago (Ill, USA). He works currently at Universidad Carlos III de Madrid, where he has been teaching since 2000.
---
Mitsuhisa Sato

Professor of Center for Computational Sciences, University of Tsukuba/ RIKEN AICS
Title:
HPC research and development in Japan - Post T2K and post K project -
Abstract:
Europe, the US, Japan and China are racing to develop the next generation of supercomputer - exascale machines - capable of a million trillion calculations a second by around 2020. In this talk, two Japanese projects, post T2K and post K, will be presented on the road to exascale computing in Japan. The post T2K project following Open-supercomputer Alliance organized by Univ. Tsukuba and Univ. Tokyo and Kyoto Univ is aiming to build and install a large-scale manycore cluster system to provide services for computational science researchers. This is a joint effort by Univ. Tokyo and Univ. Tsukuba, which established a virtual organization, Joint-Center for Advanced High Performance Computing (JCAHPC) to manage and run the installed system. The post K project is to develop the next Japanese flagship computer system following the current our petascale system, the K computer. I will talk how to organize the project and the current status. As a co-design effort, several software such as a micro-kernel operating system, McKernel, and a PGAS programming language, XcalableMP, are being developed to be deployed for these systems. International collaborations for exascale computing will also be discussed.
Biography:
Mitsuhisa Sato received the M.S. degree and the Ph.D. degree in information science from the University of Tokyo in 1984 and 1990. He was a senior researcher at Electrotechnical Laboratory from 1991 to 1996, and a chief of Parallel and distributed system performance laboratory in Real World Computing Partnership, Japan, from 1996 to 2001. Currently, he is a professor of Center for Computational Sciences, University of Tsukuba, and is appointed to a team leader of the programming environment research team in Advanced Institute for Computational Science (AICS), RIKEN since 2010. He has been working as a director of Center for computational sciences, University of Tsukuba from 2007 to 2013. His research interests include computer architecture, compilers and performance evaluation for parallel computer systems, OpenMP and parallel programming. Dr. Sato is a member of IEEE CS and IPSJ, IEICE, JSIAM.